This article has been translated from German and written by Katharina Hoeftmann Ciobotaru.
It is not that easy to visit Neot Smadar. Although the inhabitants of the small kibbutz in the southern part of the Negev desert have created a landmark with their cultural center, a striking Aladdin-like tower that can hardly be ignored from the country road, this is not an automatic invitation. If you want to visit the kibbutz, founded in 1989 by young Jerusalemites, you need an entrance ticket, which costs about 8 euros per person. Once in the place that was built by its inhabitants to try out an alternative way of life together, one hears again and again of the very special philosophy that prevails here.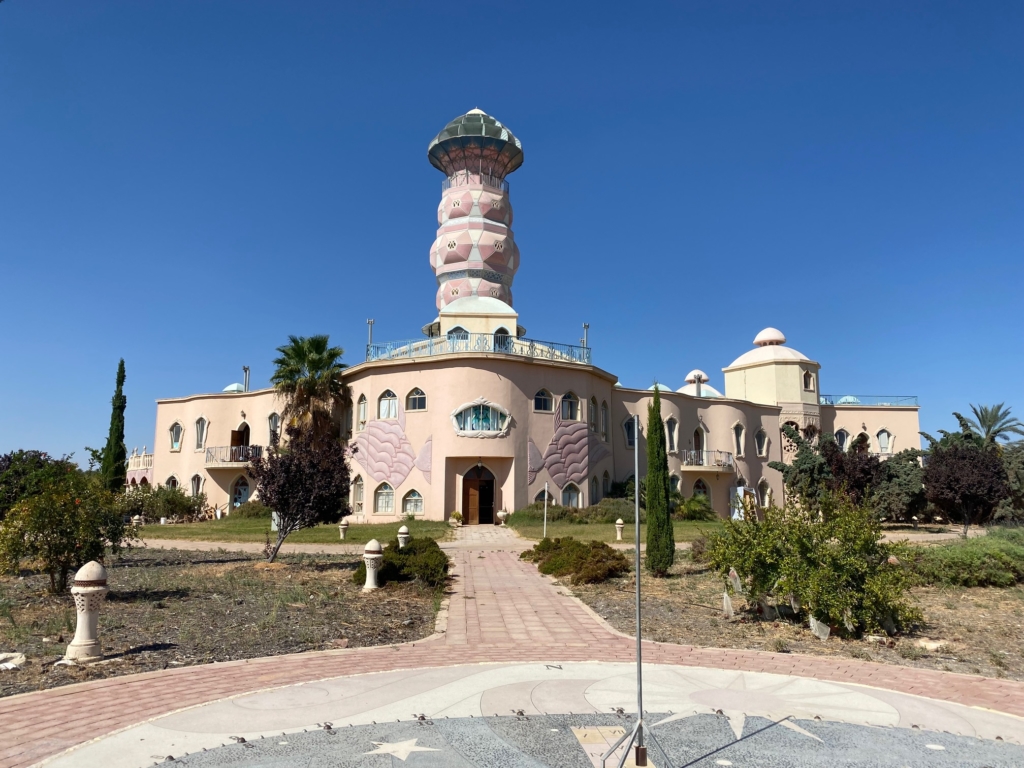 "Whoever wants to move here has to fit into our community," says Dalia, who runs the Arts and Crafts Gallery in the Cultural Center. There are a lot of visual artists living in the village. Their studios are housed in the pink-turquoise cultural tower and they create sculptures, ceramics, wood art, workshops, and much more. In addition to the artists, there are all sorts of other professions that have found their home in the kibbutz: a small winery, a shop for specialties produced in the kibbutz (including honey, olive oil, whiskey, juices, and goat cheese), and a plantation for dates are just some of the employment opportunities for residents.
"We have the southernmost winery in Israel here," says Shmuel, who has been in charge of wine production in the village for years. "And yes, our coexistence here is special. We want to learn and live together, in a real and harmonious coexistence, where we not only show solidarity but also develop ourselves over and over again. That is why it is also obligatory to move within the village almost every seven years."
Their questioning the meaning of life and living morally is reflected in the fact that the kibbutz is vegetarian. Apart from goat breeding and honey production, no other animal products are produced or consumed. 
The life around the Aladdin Tower, which was designed and built entirely by kibbutz members and thanks to its design, does not require air conditioning, should be characterized by questions and learning, creativity and cooperation. This lifestyle is also offered by the village to the volunteers who come here from all parts of Israel and the world to help. Whether sustainable agriculture and architecture or water recycling (all olive, fruit, vegetable and date plantations in the area are irrigated with salt water and recycled wastewater) and handicrafts – the possibilities for activity are diverse. You can then temporarily become part of the community, which includes about 100 people. 
There is no bar in the kibbutz, but there is a kindergarten and a primary school. A bit closer to the main street is a vegetarian restaurant, which is open to everyone – unlike the kibbutz with the art tower, whose access requires checking in at a counter. 
No, you do not want too many visitors here on this island in the middle of the Negev desert. But whoever does visit can see a very special community of idealists who have created a place that unleashes alternative paths to life.