We live in a world with so many sides, yet somehow our language has whittled its way into a binary state of being. Good or bad, right or left, dark or light. Male or female, black or white, us or them. The need to "choose a side" implies that one's success means another's failure, or that one is right and another wrong. Yet these are untruths. We can and do exist in a world where there is space to flourish, and where people with different beliefs exist alongside each other. Yet our language is more polarized than ever, pressuring many towards either end of the spectrum. It's worth remembering that no matter which "side" you identify with, we all exist within one spectrum.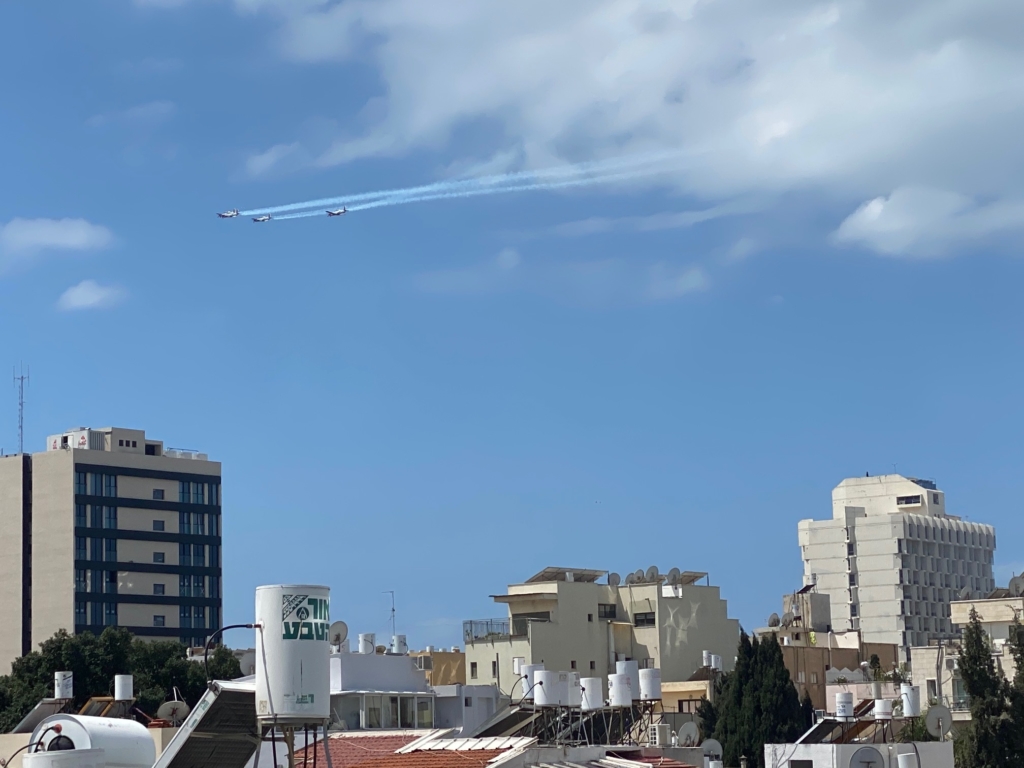 With conversations and language so divisive, how can we as a global community find a way to bridge the gap, and find unity despite our different experiences of life? What would it feel like to accept that there is a massive overlap of our many shades? How can we hold space for every part of our spectrum, instead of segregated into two sides?
Landing at the right time for a lesson, perhaps the Israeli holidays offer an opportunity. A visceral sense of this polarity can be felt in the moments of transition between Yom Hazikaron and Yom Ha'atzmaut; Israel's Memorial Day and Independence Day respectively. The emotional gap is distinct. On Yom Hazikaron, Israelis commemorate their fallen soldiers and victims of terror, spending a somber 24 hours reflecting on the lives lost in the name of liberty and self-determination, as a result of conflict and war.
The day is marked by two chilling sirens which ring out across the country, prompting all persons to stand still in silence and contemplate the cost of freedom. Only a sunset later, on Yom Ha'atzmaut, comes the colossal celebration to honor Israel's independence, marked by fireworks, barbeques, and parties that erupt on the eve of Memorial Day and boom well into the following night. The whiplash as we move from one end of the spectrum into another, jolts one into introspection – what is there to learn between the lines? How can we move from fallen heroes to high vibe celebrations in a mere moment?
It's within this record-scratch of a transition that our lesson lives. Like the blue and white of the Israeli flag holding the half-mast of distinct sorrow for those who died, it also represents the burst of national pride waving freely in the air. It symbolizes the capacity we have to hold both sides of the spectrum within us, and all the layers living in between. This day marks a transition that encourages us to find the inner balance within ourselves, in history and in presence, to feel deep sadness and absolute joy. 
This moment feels confusing, hard, unnatural, yet also intentional, necessary, and intrinsic to our emotional evolution. This moment is an example of what it's like when our humanity expands its capacity to hold space for the full spectrum of feelings we encounter daily.
So, what if we could create more spaces where we didn't need to choose one or the other, but could instead honor the layers of transition required to make space for it all? Imagine our next sunset, in all of its glorious shades, as a moment to accept the full spectrum of our humanity, instead of always needing to choose a side.