In what everyone hopes to be a final grand reopening, Israel is returning to the next iteration of "business as usual" after its last national lockdown ended at February's end. With COVID-19 showing a 4% infection rate, and the vaccination campaign going strong, now seems the time to clean up the mess in the middle. 
Schools, gyms, malls, pools, parks, and some cultural hubs are all opening, yet the restaurant industry remains cautious, even after an official approval to open doors. With Sunday's announcement also comes a new series of restrictions. Only 100 diners at a time, only green passport holders are allowed inside, and everyone else is limited to outside. Tables must remain at least two feet apart, and masks are still required in public. However, of the 14,000 restaurants in Tel Aviv city specifically, only around 10,000 will reopen. Half of these will likely hold out, hesitant to fully return given the deep expenses to open their doors, hire staff, fix untouched machinery, and the ever looming concerns of another closure. Many restaurant owners will wait until after Passover to get back to, what they hope, is business.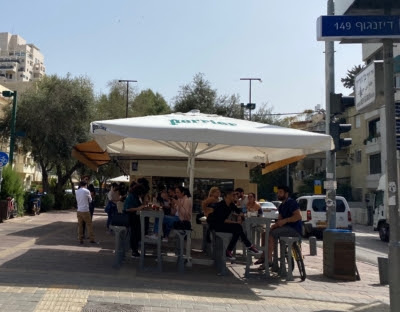 The Ben Gurion Airport is also opening up to more approved flights, and will now allow citizen arrivals from Toronto, Kiev, and Hong Kong to land. Entrants will no longer be required to stay at a corona hotel, yet will need to quarantine at home. Many are being given wristbands to ensure they follow restrictions. 
Of the nine million citizens, the five millionth vaccination was given on Sunday. A Ministry of Health report claims that one million people remain to be vaccinated who are over the age of 16. There have been questions about vaccinating younger children, yet no announcements have been finalized. 
Those who have not been vaccinated are in danger of having their privacy obliterated, as the Israel High Court reviews a proposed legislation by Physicians for Human Rights and Israel Rights Civil Association to publicize the names, ID numbers, addresses, and phones of those unvaccinated. Unvaccinated students have been banned from clinical trials and classrooms, and 80 Hadassah hospital workers were forced to remain on furlough for refusing vaccination.
For those who don't have access to the green passport or are recovered, another option is surfacing, recently announced by Dr. Sharon Alroy-Preis. People can take a test and if the virus antibodies, they can receive a green passport. With so many uncertainties still in the air, we can only wonder what will land next.