With an increasing population and limited space, the Tel Aviv municipality is finally turning towards its heavily neglected south. The Tel Aviv-Jaffa Local Planning and Building Commission recently approved an urban development plan which will add 13,000 square meters of housing units, 153,000 square units of business space, and 33,500 square meters in public space, and 175,000 square feet of open space to the area.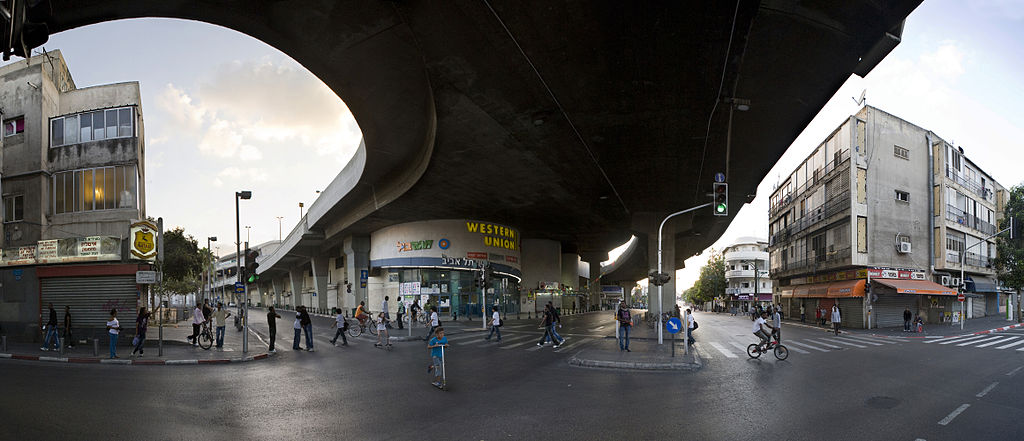 It will be the first time in over a decade that the Neve Sha'anan area of Tel Aviv will be given any constructive attention. While the upgrade supports the growth and development of the city overall, the gentrification scheme will likely displace the local residents, 70% of who are asylum seekers, and are already confronted daily with extreme hardship, poverty and discrimination. The area is known for being rundown, neglected and filled with crime. Any attempts at urban renewal without consideration towards its local community will only perpetuate further problems.
Situated at the center of the urban intervention is the Central Bus Station, which many believe to share the same qualities as its surrounding neighborhood – dark, dirty and dilapidated. Out of seven floors, only three are in use today. The labyrinth of dark corners, confusing walkways, and failed storefronts create quite an eerie space. However, some believe that the Central Bus Station is the center of opportunity to bridge the cultural conflict, and see its potential light at the end of the station.
Chen Raviv, a social entrepreneur who saw the magic of the Central Bus Station during a tour, believes that it plays a key role in the city's success and growth. Today, he works at "the city under one roof" as the co-founder of the White Elephant, an urban development project aiming to use the Central Bus Station area to benefit the local communities.
In addition to hundreds of retail and street food shops, the building is currently home to a Filipino market and church, a Yiddish cultural center, a refugee crisis center and nonprofit, a series of old movie theaters, a performance art platform, a stunning graffiti installation, and even an Egyptian fruit bat cave. Of the 80,000 people who walk through its doors every day, many rush to get out as quickly as possible. Yet for the local community, the building is a hub for social services, entertainment and educational facilities, and a bridge for connecting the under-served community with unfulfilled needs.
Raviv sees the bus station as a chance to counter the typical gentrification with a healthier urban integration. "Even in all the chaos and neglect, it has oracles of light. For the asylum seekers, Filipinos, and others, it's a place to be hosted. A place to spend an afternoon instead of being in the streets. I love this place because for most people, it's a pit hole, and for others, it's a sandbox."