Israeli-Swiss artist Naomi Leshem made a name for herself through her simple and serene photography. Her latest exhibition is "Ghosts of Others" and is not consistently recognizable as "typical" Naomi Leshem work. The series marks a turning point in Leshem's art, from the processing of her own biography to the stories of others: people, objects and places.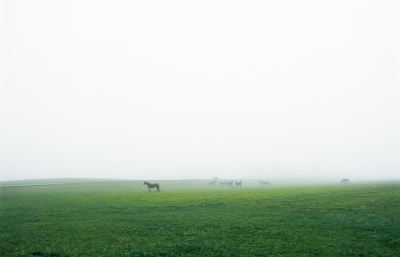 One of her works is inspired by Leshem's visit to Zurich, where hotel owner Gizela becomes "the good spirit" as a Belgian supporter from the 50s. Another inspiration is a building where Nazis wanted to "aryanize" young, kidnapped Poles. No matter people or places, the "Ghost of Others" exhibition shows stories and visually transports emotions.
At the same time, the photographs virtually freeze the depicted moment and the viewer becomes part of the story. The fact that the photographer works analogue and without image programs emphasizes her impressive talent all the more in photographs such as the cover image, in which Leshem succeeded in staging the border between Germany and Switzerland in a dense fog in a magical manner.
The exhibition will be on display at the Noga Gallery of Contemporary Art, Tel Aviv, until 11 May.
This article was translated from Katharina Hoefftman Ciobotaru.