Thousands of English-speaking immigrants move to Israel annually, and with its complex and layered language, it can be challenging to find a way to communicate and connect. About five years ago, Guy Seemann was approached with the promise of an empty and almost unused theater, Beit Yad Labanim, and he decided to listen to his own desire to take the stage, and capitalize on the opportunity.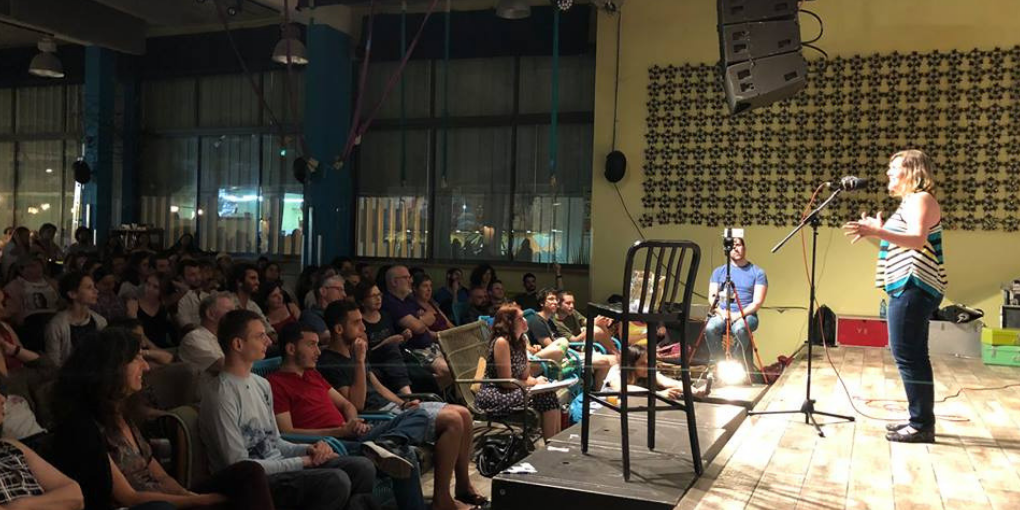 Along with a new connection Maya Hagoel, and about eight others who answered an interest call for an English-speaking theater group, the group decided to test the urban waters. They chose their first production to be the Vagina Monologues. After three fully sold out shows, there was a clear desire for English speaking theater in Tel Aviv, and The Stage was born. They became an incorporated non-profit organization whose mission is to bring people's dreams into reality.
The Stage is led by a team of about ten main volunteers, most of who were in the first meetup, who run the community, manage educational programming, marketing, and more. In addition to the lead team, hundreds of volunteers have taken part throughout the years, registering events, creating art, performing, developing and leading workshops, hosting slam poetry nights, producing community events, play festivals and more.
While The Stage might have been intended as a space for individuals to flourish in the arts, it also provides an established circle for self-expression in a country where it might be difficult to fully express. Seemann, a Founding Member who now operates as Chairman, believes that the most important thing is that "The Stage has become a place where thousands of people can discover themselves, and improve their writing, directing, acting, etc…and they all came to the conclusion that the arts was the way to tap into themselves." The Stage offers a space for people to reconnect with themselves and connect with others, all while contributing to Israeli society and allowing individuals to "move forward in whatever stage they are in life."