A fresh and local legend, Stephane Legar is growing into an international influencer among young crowds. Born with the name Stephane Gagba, Legar is a perfect example of a global citizen. His parents are French and African, and arrived in Israel in the nineties on a mission trip when they decided to stay. Today, Legar lives as a secular Christian in Israel, has deep roots in Togo, Africa, speaks fluent French and Hebrew, and is currently enlisted in the Israeli army, feeling most at home in Israel.
Now 20 years old, Legar rose to fame with his first YouTube video, "The Step Fun Challenge," which exploded among teenagers, and sits at 10 million views. Today, he writes and produces his own music, and has over 212 thousand followers across his social media channels.
His energy cascades around the world, dazzlingly different than any of the typical Israeli megastars one may see. Playing with a musical mix of pop, dance, hip hop with an African influence, Legar fondly recalls his inspiration from Michael Jackson. His global flavor allows him to play with languages, and he uses Hebrew, English and French in the music he creates, like in his most recent summer hit,"Comme ci Comme ça", which has almost 30 million views on YouTube.
In an interview with Legar, it is clear his most unique gift is his positive energy and attitude. At 16 years old, he began modeling and walked his first major runway show for CASTRO. While he is currently in the army, he is able to play 2-3 shows per day and record an album service, thanks to an army allowance for performers, actors and musicians.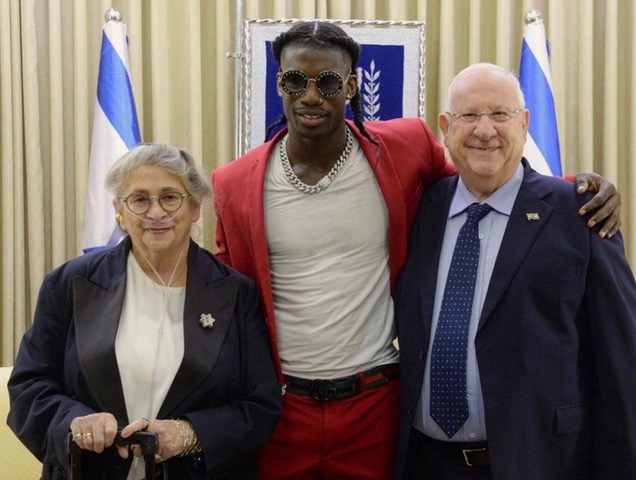 Legar believes in himself and has set a goal for everyone to know who he is, and seeing them into reality, being invited recently to meet president Reuven Rivlin. Despite growing up with many challenges based on his skin color and background, Legar's positive attitude is inspiring. He says, "I had a large network quickly, but few agencies or producers understood who I was and what I wanted to do. I was different than everything they knew."
Today Legar is using his differences to his advantage. His unique voice, talents, and social media platform have allowed him the opportunity to fulfill his dreams and be a role model for the younger generation with big dreams.