Imagine being able to save six billion male baby chicks from dying every year?
Because they don't lay eggs and cannot be used for poultry, billions of baby chicks are murdered and discarded annually. An Israeli startup, eggXYt, aims o save the chicks and found a solution which saves money and lives, decreases waste, and creates exponential impact. The average investor might hear "saving lives" and assume this social impact won't make profits.
What they don't know is just how financially viable this type of social startup is – and that's where TechForGood comes in.
TechForGood is a social good startup accelerator changing the conversation about social impact investing and positioning Israel as a leader of the edging impact revolution. They are creating a platform, collecting tools and resources, and making every effort to shift the outdated belief that doing good for the world means making less profits.
Technology Gone Good
Three years ago, TechForGood co-founders Omri Boral and Nir Shimony saw a large gap in the technology scene. They combined their talents in finance and business, their networks, and their purpose to launch a new and much needed platform which supports passionate and purpose-driven entrepreneurs who leverage technology to create large-scale positive impact around the world. They support about ten startups at any given time by providing them with a framework, a network, and other personalized key ingredients to advance their measurable impact.
Boral and Shimony have found a way to communicate to the tech investor industry that value driven startups are more valuable, and straight where the future of technology, business and economy is headed. With their own passion and proof, Boral and Shimony make it clear that there is no need to compromise on financial gain in order to create social, economic, environmental and communal gain for the world.
Inspired by the UN Global Goals and basing their definition of impact on the breakdown of the seventeen goals which have been laid out, TechForGood's current startup scene focuses, for now, on food and waste management, aging, and environmental sustainability.
Why Israel?
TechForGood leverages two of Israel's largest assets – its people and its innovation. They have created a home for entrepreneurs who are looking to drive change, and are willing to take the risks to make it happen. They are harnessing the power of the new generation of humans who strongly desire careers which make an impact and allow them to live with purpose.
Boral and Shimony are paving the way for a new kind of business model, one that is both measurable and meaningful. TechForGood has developed a unique methodology, creatively customized for each startup, where they "embed intentionality into the DNA and decision-making processes" from the ground up, and act as a bridge between the do-good entrepreneur and the global impact investors.
Shimony says that "the idea behind TechForGood is that social tech should not be any different from fintech or cybertech. There is lots of money looking for innovation, and the fact that you're doing good doesn't mean you need to make any compromises on financial return."
Three years ago, Boral and Shimony had to knock door to door to find entrepreneurs interested in such a unique opportunity. Today, they have hundreds of applications to sift through.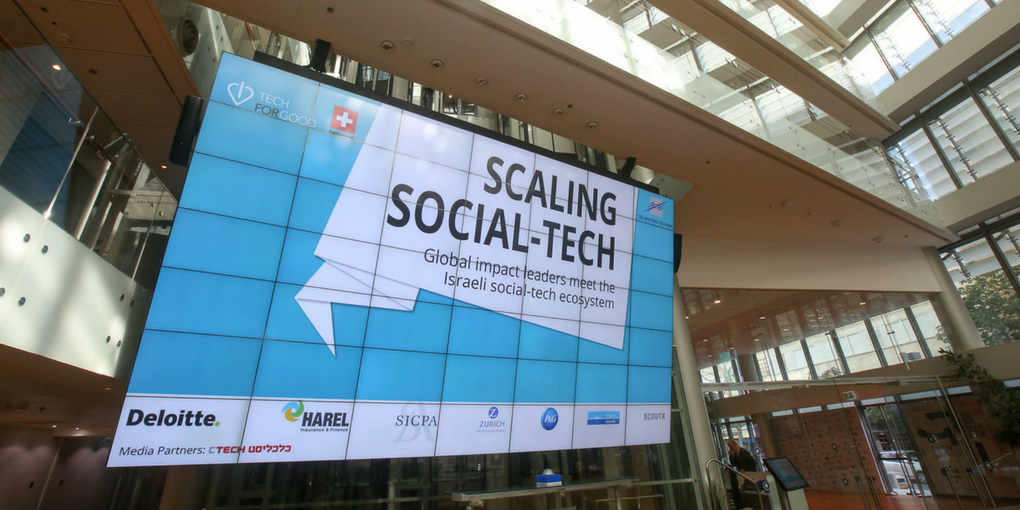 Designing the Future for Good 
Big corporations have also begun to understand the value of corporate social responsibility in their long term growth as a successful strategy. While quite a new phenomenon when it comes to big Israeli corporates, a partner like Tnuva realized that in order to continue growing, they need to stay innovative, and listen to their customers' cares and needs.
TechForGood currently partners with Tnuva, who is battling children's health and are committed to improving their products to work towards decreasing childhood obesity. Large corporations are only the first step in making SocialTech a more mainstream part of the highly funded hi tech industry.
TechForGood aims to hit the global market and continue building ecosystems to connect the good, already having created a strong partnership with what they believe is the social good Silicon Valley in Switzerland. Geneva acts as a centralized player for many of the global nonprofit organizations like UNICEF and Red Cross and leads in both innovative and humanitarian industries. TechForGood and the Swiss Embassy have already partnered for their first dose of startup nation synergy.
In their first SocialTech conference, TechForGood partnered with the Swiss Embassy to host 300 venture capitalists, angel investors, entrepreneurs, corporate heads, visitors from Switzerland who advanced the SocialTech conversation even further – and where 300 people understood that business with a purpose doesn't just sound nice – but might prove to breed even more profits.
The co-founders' talent and passion shine through as the pair speaks about what every entrepreneur, investor, corporate or human should want to hear – that contributing to a better world and financial gain are no longer two competing thoughts, but are complementary, and the future of good business.
For upcoming events and more information, visit here.