It was actually a matter of time until the Apple watch turned into a camera device for video calls. However, the latest technology is not coming from Silicon Valley but from the Jerusalem-based startup Glide. Glide was founded in 2012 and is famous for its streaming video technology. Now they applied this knowledge to a soon-to-be-big wristband for the Apple watch.
The Israeli wearable is called CMRA and comes as a watch band with two cameras: a self-facing 2mp and outward-facing 8 mp camera. The wristbands offer 8 GB storage for 500 stills or 30 minutes of HD video per charge and come with their own batteries.
"When Apple heard that we were working on a camera-band accessory, they rolled out the red carpet to help us construct CMRA with an Apple feel and look," remembers Glide's COO Jonathan Caras. For this, Apple relocated Shawn Grening, the former technical program manager for Apple Watch, to Jerusalem to join the project with Glide CEO Ari Roisman. The wristband is now available for 149 Dollars, later it'll be sold for 249 Dollars.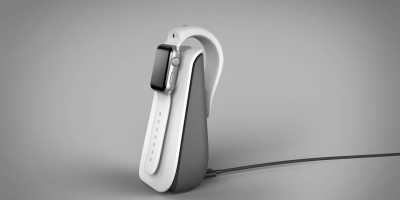 Technically this is a breakthrough device for the 15 million Apple watches that have been sold since the launch in 2014. The target group are aficionados famous for buying new technological features. However, so far the watch hadn't been able to replace smartphones– therefore the new wristband might be the game changer the target group was waiting for.