Israel's darling chef Eyal Shani is not only uber successful with his various HaMiznon restaurants in Tel Aviv – his gourmet pitta place is now ranking among the most recommended places in Vienna, Paris and soon Manhattan as well. Six branches of Hamiznon are slated to open next spring in New York.
However, this kind of roaring success of Eyal Shani and his partner Shachar Segal, had not been foreseen in 2011, when they opened their first pitta place on Tel Aviv's Ibn Gavirol Street. Doomed to be overpriced, the 'Masterchef's' latest endeavour was mainly well perceived inside the happy-to-splurge bubble of young Tel Avivis. However, over time, baked cauliflower, sweet potato and slow-cooked meat gained more and more fans.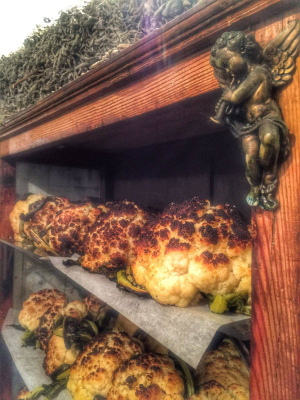 Healthy food is on the rise for much younger foodies as well. The Ministry of Education and Health is about to ban sugary drinks, snacks, Schnitzel, hot dogs and pastries from school cafeterias. According to a new directive only healthy food is going to be allowed – with heavy penalties for those who still offer jahnun, bourekas, cakes, croissants, candy or sugary soft drinks.
Once the directive is approved by the cabinet, only whole-wheat bread with healthy fillings such as tuna, avocado, egg, vegetables, salads and fruit are going to be on offer.
Chances are high that with these changes the percentage of overweight or obese children in Israel is eventually going to drop from 14%. The numbers for first-graders and seventh-graders are as worrying: 21 percent respectively 31 percent are considered obese.