The contemporary German photographer Herlinde Koelbl is internationally acclaimed for her outstanding photographs. The award-winning photographer now presented her latest project 'Faces of Jerusalem' in Jerusalem on behalf of the 50th anniversary of the Jerusalem Foundation.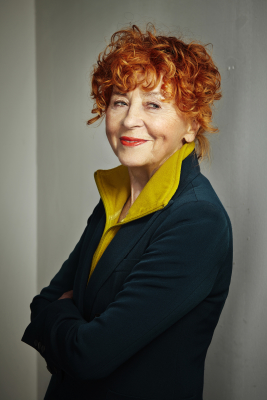 The Jerusalem Foundation commissioned a well-versed artist for the exhibition that seeks to highlight co-existence projects, mixed couples, and individuals who serve as pivots for mutual respect, trust and the will get closer to a peaceful community for Israelis, Palestinians and Arabs.
The magic key to authenicity

To cut a long story short, Koelbl's latest exhibition displays the least Koebl-style of her works. The portraits are well done, they do show the characteristic signature of the characteristic redhead's proximity to her objects, her determined will to listen and to understand and to not only portray but to break through the shell. Koelbl always seeks to reveal the core without staging the individuals. For the artist with her 40 years of experience, even telling someone to sit in a different way or to look into the other direction, is out of question.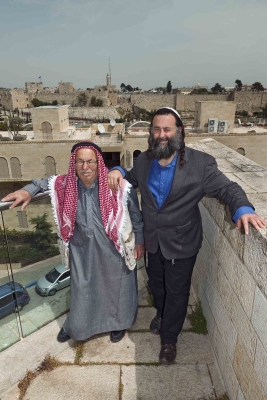 But given the immense intensity she was able to display in previous works such as 'Traces of Power', the series 'Bed Rooms', 'Hair', 'Targets' or 'Jewish Portraits', this project disappoints in intensity.
A little bit of Koelbl

It didn't affect her stellar quality to capture the vulnerability, strength, beauty and soul of people. But, she believes, the circumstances in Israel have changed, despite the calmer situation in comparison to the Intifada-times. 'The situation is less dramatic, but it seems much more tense than it used to be. People mistrust each other more and you can feel potential conflicts no matter where you go,' Koelbl explains what she experienced during the production of 'Faces of Jerusalem'.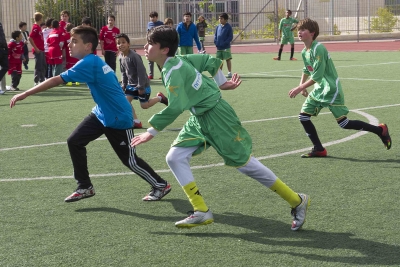 Focusing on co-existence is literally the opposite of her first Israel-based photo project in 1986. She found herself in the middle of the First Intifada and never forgot what she experienced. Upon her return to Germany Herlinde decided that news reporting was not for her.
Still, the connection to the country and its people manifested and is reflected in 20 visits since. 'Since I worked on the Jewish portray series, the country changed for me,' Herlinde explains. She became friends with her 'objects' and is now visiting them every time she returns.
Co-existence and fear

This might hold true for 'Faces in Jerusalem' as well. Her photo objects are teachers, social workers, peace workers and a rabbi. 'All of them dare to make a change together, regardless of discouraging comments,' she says. One example is a climbing group of Jews and Arabs who have to protect and safe each other, another is a school for special needs, a mixed kindergarten or mixed couples who prove that loving and living in this country is possible.
However, this sentence has to be complemented by the fact that, sadly, the wife didn't want to appear on the photo out of fear. 'My wife is Jewish, we are a mixed couple, but my wife didn't want to be in the photo because they threaten us. Neighbours sent a letter to demand our removal from the house,' tells Anwar Ben Badis who was pictured with his little daughter Hili Noon instead.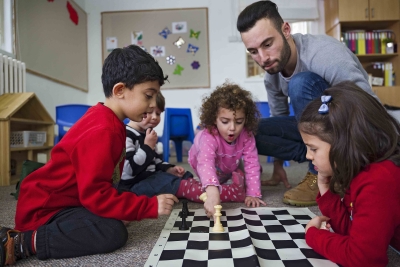 When we sit in Jerusalem, she remembers the time when she tried to take a photo of Teddy Kollek in the late 1980s. 'I called several times unsuccessfully, so at one point someone at this office told me to call Teddy at home. Me being German I thought this was incredibly impolite, but I did it anyway and we scheduled an appointment. ' However, arriving at the mayor's office, he stopped her small-talk attempt by saying: 'Stop the pleasantries and get going.'
What kind of magic has Herlinde been using for the past 40 years to take these kind of intimate photos? She reveals her secret with a smile: 'I get close to people because I respect them and I am truly interested in them. Not the camera takes the photo but the person behind the lens.'
Dwek Gallery
Mishkenot Sha'ananim
Yemin Moshe
Jerusalem
until December daily from 10 am-8 pm
LINK: http://mishkenot.org.il/en/