Israeli artist Sigalit Landau's 'Salt Bride' photography series is currently exhibited at the renowned Marlborough Contemporary Gallery in London.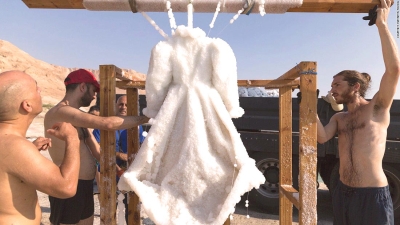 Propelling the magic of the salty lake to a new artistic level, Landau placed dresses for three months into the Dead Sea. The result is stunning: while the crystals cover each dress entirely, the shapes are well-kept. "It looks like snow, like sugar, like death's embrace," Landau said about the salt deposits. The Tel Aviv-based artist has been experimenting with the salt crystallization of objects for many years. "Over the years, I learnt more and more about this low and strange place," the artist said. "It is like meeting with a different time system, a different logic, another planet."
For her latest show, Landau didn't choose just any dress, but rather a replica of a traditional garment worn by the protagonist in "The Dybbuk", a traditional Yiddish play about a bride possessed by — and later exorcised of — a demonic spirit.
More about Sigalit Landau