Tourists and new immigrants had the chance to brighten up their beach afternoons with a couple of free Hebrew lessons that were organised by the municipality in August.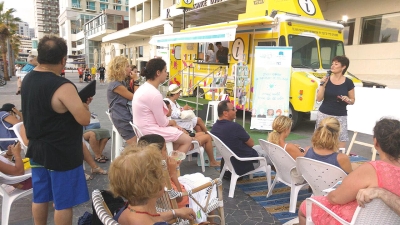 Ulpan-teacher and head of the Neve Tsedek Ulpan, Michal Oppenhaim taught language classes right by the beach. However, her focus was somewhat different to ordinary lessons.
While day-to-day language students deal with grammar, exceptions and declinations, these Hebrew-classes were more fun and everyday life oriented with phrases such as: "Sim li harif basabich" ("Make my Sabich extra spicy) or "Ech megi'im le Neve Zedek?" ("How do you get to Neve Tzedek?"); and of course "Tafil moneh be'vakasha" ("Turn on the meter please").
For some tourists, however, those two sentences seemed to be the most promising and entertaining "Timrach li krem shizuf" ("Rub some sun block on me") and "Efshar shoko banana" ("Can I have the banana-flavoured ice cream bar with chocolate coating please?")