When Sharon Tal returned from the US, the fashion designer was ready for something new. "I wanted to create something that would be mine and also bigger than life: a fashion house representing Israeli heritage," says Sharon.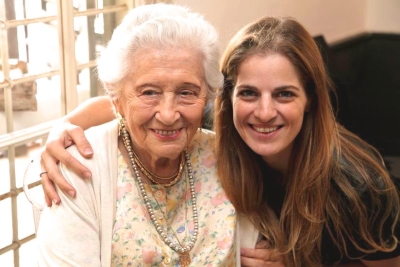 After a career as embroidery expert at Alexander McQueen and being in awe by Kate Middletons's wedding dress, her partner Nir had a bold idea: why not get in touch with Ruth Dayan who started the legendary fashion house 'Maskit' in the early 1950s.
Back then it used to be a social welfare project by the Ministry of Labor to employ new immigrants, many of them experts in traditional handicrafts. One year later she and couturier Fini Laintersdorf founded Maskit. After decades, business went down the drains and became a forgotten legend of the past. Until Sharon got in touch with Ruth – and they decided to revive Maskit.
After spending two and a half years tracking down former employees, cuts, garments and working with new designers on the first collection, the brand had its premiere at last spring's Gindi Fashion Week.
Watch Maskit at the Mercedes Benz Fashion Week, Moscow

More info:
JPost
Maskit