For many Jews in the Diaspora finding a life partner that shares their religion is like winning the lottery twice! Especially if you plan on raising your kids in the Jewish faith it helps that a possible wife or husband shares your belief and value system – but what if you know already every single other Jew in your age group? For many Diaspora Jews the solution is to come to Israel. According to Nefesh B'Nefesh (a nonprofit organization that promotes and supports Aliyah) 950 eligible men and women are heading to the Jewish State right now in order to find that Jewish love.
Jonny Stark, who immigrated to Israel from the UK and founded Facebook's biggest helper to new arrivals, the page Secret Tel Aviv, shares their story: "I also came to Israel to find love. And I am happy Secret Tel Aviv supports people in that wish." In addition to meeting on their facebook page Secret Tel Aviv launched an online dating portal that allows people to sign up for a matchmaking service: "We want to help people who are serious about finding a partner. Thats why we match them first by character and interests and only then send out their pictures", explains Stark who eventually found love in Israel with an Olah (Jewish immigrant) from Brazil.
Also a story not uncommon: when dating Israelis many Anglos find out about some serious cultural differences: "In England the whole dating process is much slower. You call a few days after a date. Here in Israel girls forget about you, if you don't contact them a day after", Stark remembers his first Israeli dating experiences. The fact that Israelis will take dates home to their families after a few weeks is also shocking to many immigrants.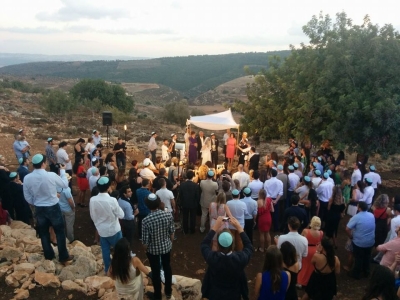 For Karen Gottschalck, who immigrated from Bolivia, Israel was just the right place to find that one special person. She moved to Israel in order to find an Israeli husband and start a family ten years ago. Today she is not only happy with her find, husband Rani, they also have two beautiful daughters: "Back in Bolivia I was living an extremely comfortable life, but didn't find love. Basically for Bolivian society at 32 I was doomed to be a 'solterona'." Luckily Gottschalck found Tel Aviv to be a place that is more open minded. And so do many other immigrants moving to Israel in order to find that other (Jewish) half.