I can't say it any other way: my first time was a catastrophe. I burst into it. From the wrong side, too hectic and without a plan. First here, then there. I wanted too much in one go. And in the end: it dripped without stopping and my dress was totally soiled.
No, no, don't worry, I am not going to bother you with details about my first sexual experiences – it is a purely platonic relationship I started during my first visit to Israel: Me and pita. Pita and me. A story of ups and downs.
You can't think of the Israeli cuisine without including the flat yeast piece that resembles a flying saucer at its best. We Europeans like to regard our bread as almost holy – however, Israelis are not any less arrogant when it comes to the consistency of their little flour discs.
Worth a bite?
Back then when my husband and I still lived in Berlin, I once surprised him with an Israeli dinner. Of course it came with pitot (this is the plural of pita in Hebrew). Well, he didn't spit it out but his face told the truth about his opinion on the Israeli national bread.
Back then I thought, well, he exaggerates. However, nowadays I am fully aware that even in Israel not every pita is worth a bite. However, it was a long way to get there.
In the beginning I tried stoically to stick to familiarity and bought rolls. Dark bread. Rustic bread. Baguette. But I couldn't help it – as devoted gluten-lover you reach to the point where you have to admit that really tasty, I mean, really really tasty, is only pita in Israel.
And isn't it a bit similar to the Israeli society anyhow?
And the trick is…
While you can garnish half a roll with a slice of sausage, you can squeeze many more things into a pita: falafel, mini burgers, shawarma, eggs, vegetables, salad, tahini, haloumi cheese, hummus, hot Amba sauce.
And while pretty much everybody is able to eat a slice of bread you need a bit of talent and a lot of experience to manage a properly filled pita. (The trick is to eat it slowly from top to bottom and to take even bites from one side to the other and never ever to bite into the lower side or bottom)
Tasty wheeling & dealing
Pita could be described as the glue that connects things in Israel (as long as it is good quality). Beloved by Jews, Muslims, Christians and Atheists.
And it has become art in itself: an Israeli mother wanted to encourage her daughter to eat more and started decorating pitot with popular faces. Not only her daughter loved it but the public as well and the artist opened her own exhibition and Instagram page.
One of the pieces depicts Benjamin 'Bibi' Netanyahu, made of 100% wheat flour. What an idea: People could simply eat the Prime Minister during the next wheel and deal period – and he would be still tasty!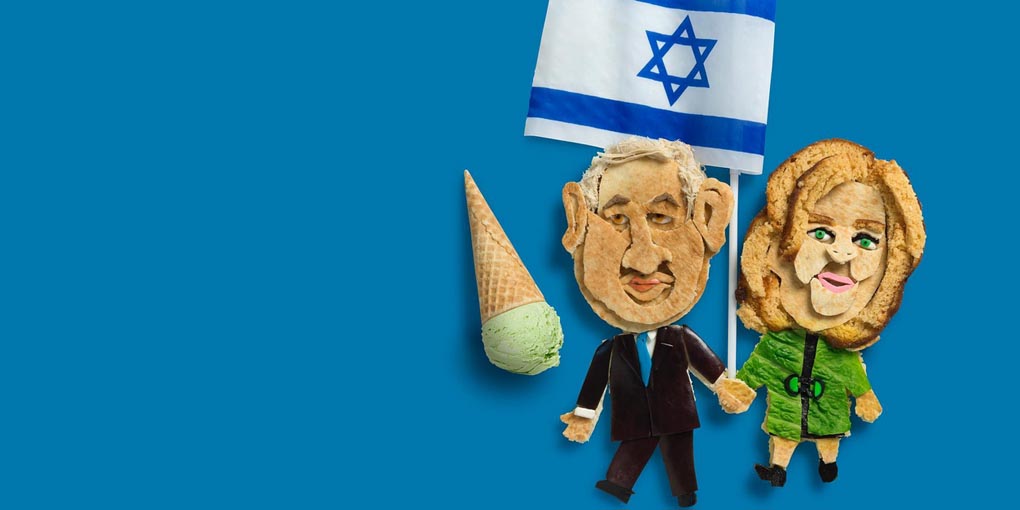 Story: Katharina Höftmann
English: Jennifer Bligh