A new exhibition on popular Habima Square in Tel Aviv sheds light on the stories of eleven soccer players in the Third Reich. These sportsmen were excluded from the professional leagues, humiliated and some of them deported to concentration camps. 'It is significant to have this exhibition on such a central square just days before the Holocaust Memorial Day,' said Dr Wolf Iro, head of the German cultural Goethe Institute, that curated the exhibition together with the historian Prof. Dr. Lorenz Peiffer of the University of Hannover, Germany.
Life-size depictions of the soccer players feature their respective life-stories. However, the aim is to raise awareness beyond their stories and to remember the fact that around 20 000 Jewish sportspeople were prohibited to continue playing after 1933.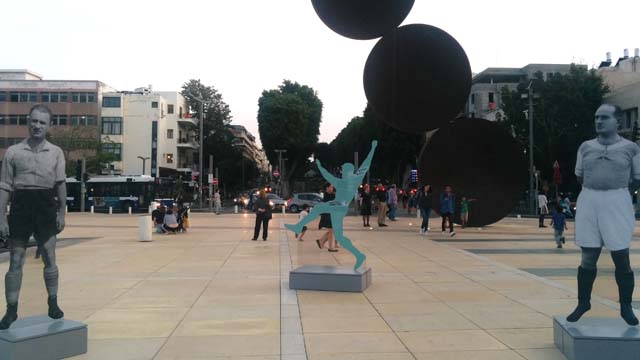 Two of the life stories are on Gottfried Fuchs and Julius Hirsch. Both were members of Germany's national team. Fuchs still holds the record of scoring ten goals for the DFB (German soccer team) against Russia in 1912. The match ended 16:0 for Germany. The other players are Walther Bensemann, Simon Leiserowitsch, Max Salomon, Bernhard Grünfeld, Paul Mahrer, Fritz Kerr, Jenö Konrad and Kurt Landauer. The German Jew Emanuel, 'Eddy' Schaffer later became Israel's most important soccer coach after having fled from the Nazis.
The exhibition is on until May 9.