The maestro sits. This is a rather rare occasion for the lively conductor who naturally takes this place at the front of the orchestra. Yet, this time, he is facing questions not instruments. It is surely going to be a musical birthday when world-renowned conductor Maestro Zubin Mehta turns 80 on April 29th this month. Against the backdrop of this birthday, Zubin Mehta invited international journalists, among them Jennifer Bligh, editor of Israel Between the Lines, to an exclusive Q&A:
How do you feel turning 80?
I don't feel 80 at all! For example, we have the birthday concerts in Tel Aviv, then I'll go to Mumbai for three concerts and then to Vienna, Israel again then Berlin. There is no slowing down.
Do you still nurture an unfulfilled musical dream?
The thing with dreams is that I never dreamt that I'd be here! However, 47 years later, I am the Musical Director of the Israeli Philharmonic Orchestra, realizing that one dream builds on another. It is getting higher with each level. And this is where I am. Life goes on.
After 47 years with the Israeli Philharmonic orchestra, is there still music you would like to conduct?
I am truly waiting for the day to play Wagner.
Not a light-hearted dream for an orchestra in Israel. What does Israel mean to you?
It is my third home after India and the US, I spent one third to one fourth of my life with the Israeli Philharmonic Orchestra. They are my adopted family and standing in front of them on my conductor's rostrum I feel happy and free.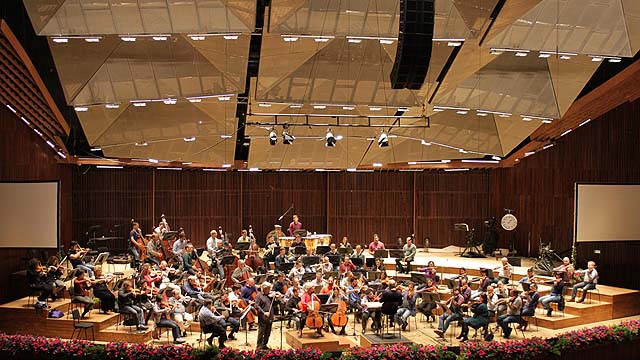 And what is your relation to the Israeli audience…
They need the message and that is the reason why I come back. The message is: We go on. Also during the past Gaza war, everybody came, the audience, the musicians. When the siren went off, we stopped and then continued.
…and to Israel?
Even if people disagree with the Israeli politics, they enjoy the music and this is good for the country.
You are an active promoter of peace between Israelis and Arabs…do you believe that music can reconcile?
Reconciliation is so problematic, but I believe that we should now challenge young people to speak to each other – it is up to them! They have the power to effect change and communication has never been easier in today's age of Facebook and Twitter. If both sides seek peace, it'll be possible tomorrow! But people have their own political agenda which is an obstacle.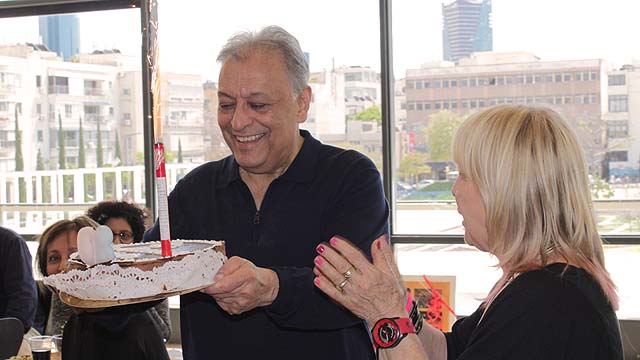 What do you want to be your biggest legacy?
That I was the one who brought more contemporary music to the IPO. For my personal taste, we still don't play enough of it. Our musical standard is very high, say, Mahler's First Symphony sounds like a week of rehearsing after 1.5 rehearsals.
Your life is all about music…
Music is part of me and my pure love. It is what keeps me going. Also, I never forget a piece I have conducted. But now, you will have to excuse me, I need to rest before my big birthday concert tonight, after all, I'll be 80 years in a few days.
Thank you very much for this interview.
Zubin Mehta about his birthday concerts:

Zubin Mehta's life in a few sentences:
Born in Bombay, India, Zubin Mehta grew up in a musical environment. His father, Mehli Mehta, founded the Bombay Symphony and was Music Director of the American Youth Symphony in Los Angeles. Despite his father's musical influence, he actually had begun to study medicine. However at the age of eighteen, he abandoned his medical career to attend the Academy of Music in Vienna, where he studied with Hans Swarowsky. In 1958 he won the Liverpool International Conducting Competition and was also a prize-winner of the summer academy at Tanglewood. By 1961, he had already conducted the Vienna, Berlin and Israel Philharmonic Orchestras. He has rapidly become one of the world's most sought after orchestral and operatic conductors.
Zubin Mehta was Music Director of the Montreal Symphony from 1961 to 1967. He was appointed Music Director of the Los Angeles Philharmonic in 1962, a post he retained until 1978. The Israel Philharmonic Orchestra appointed Mr. Mehta Music Advisor in 1969, Music Director in 1977, and Music Director for Life in 1981.
Zubin Mehta has won countless awards and distinctions in many countries.
Listen to Zubin Mehta: Johann Strauss – Tritsch-Tratsch-Polka (Vienna Philharmonic Orchestra, Zubin Mehta)

Continue reading an extract of 'A Musical Journey' by Bakhtiar K Dadadbhoy