It is by far no new phenomenon that the Dead Sea declines, new sink holes appear on a daily basis and the water level is constantly sinking. Deserted shower skeletons, patrol stations and dying palm trees are witness to the previous water edge that only few residents of the neighbouring communities remember. Haaretz' new interactive project grants fascinating insight into a region that is in the process of transformation.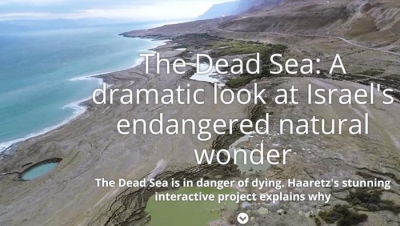 However, the reasons for the recline and the sinking water level are numerous – industry, tourism and the water itself, as the deepening of the area's stream beds intensify the force of the water flowing from the hills and thus simultaneously deepening and widening the stream beds. The result can be seen every winter – powerful floods affect the region to a degree where areas are cut off due to floods – which is in stark contrast to the sinking water level of the drying up Dead Sea.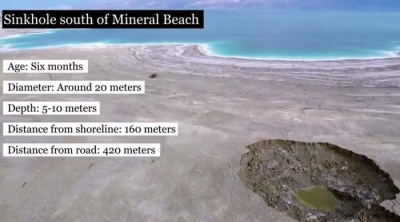 It is most likely that the water level of the Dead See is going to fall to an estimated 25 metres below its current level within the next 20 years. Plans to channel water from the Red Sea are envisioned – however, within the next two decades it is more likely that there won't be any access to the natural shoreline any more. The southern part of the Dead Sea might be accessed via industrial ponds and artificial lagoons. The consequences for residents and tourists alike are horrendous.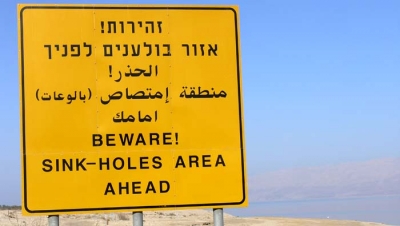 If the deterioration of the water continues – as expected – more and more sinkholes are going to appear. Mineral Beach had to be closed due to sinkholes, leading to a situation where the authorities are now focusing less on dealing with the sinkholes and more with the residents. The rate of sinkhole creation is speaking for itself: in 1996, there were 220 sinkholes. In 2015 the number increased to more than 5500. According to Haaretz, Dr. Gideon Baer, who heads the GSI unit that studies and monitors the Dead Sea, estimates that 500 new sinkholes open up every year, an average of more than one per day.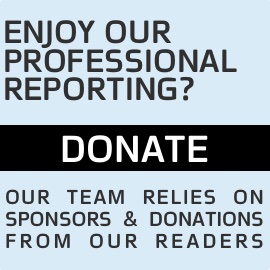 When it comes to Eli Raz, resident of Kibbutz Ein Gedi, the sinkholes could become the future economic source of the region. The geologist composed a concept for a 'Sinkhole Park' to make the best of the geological disaster area. The newspaper quotes Raz: "The sinkholes are puzzling and fascinating, with aesthetic and dramatic aspects." It could indeed become the match point for the future economic survival of the northern Dead Sea area. "People come from all over the world to see them. I proposed that some of the funds devoted to rehabilitating the sea be used to develop an open geological park."
The future is here

For him, not everything about the sinkholes is gloomy. He is morally and passionately supported by architect Adi Assif, who taught a course on the sinkhole road at the Bezalel academy: "When you refer to a place as a disaster area, you force it to remain so. It's always possible to look at where else you can take it."
At this stage, one thing is for certain, also for the former Mineral Beach manager Avi Cohen: "We have no alternative because our future is here," he explains. "We now have to cope with what we're facing."
More information: