'If you ask me, three children are one too many.' When my mother made this statement about her idea of family planning last week, I suddenly started to feel uneasy. Don't get me wrong, I love my mum. She is a wise lady, a mother, a former teacher, and she is right most of the times. But in this very case, I am not yet sure if I want to agree.
I feel that this sentence is one of the main reasons for the lack of children in Germany. I, however, am able to compare my mum's thoughts to conversations with my Israeli father-in-law:
Me: 'Hm, well, children are expensive and more children are even more expensive. Maybe two children are enough.'
My father-in-law: 'Nina, you'll see, the money will turn up somehow, don't you worry about that.'
One could argue that my father-in-law has no clue about reality because he surely took less care of his children than my mother took care of me (I am thinking of changing nappies, holding hands and comforting day or night). But I doubt that this is the real reason.
The more the merrier
Even non-religious families tend to have three to four children in Israel. The waiting rooms at gynaecologists are brimming with pregnant women. Playgrounds are never deserted. Restaurants are full of high chairs for children. Israelis consider their children a non-plus-ultra.
Children symbolize the meaning of life and keep them busy. Yet all of this is taking place without much ado – in comparison to the infamous latte-macchiato-mothers at Berlin's trend neighbourhood Prenzlauer Berg. In Israel, there is no public discussion about what mothers should do, could do, or should have done. In Germany, nursing in public almost became a state affair. While the research on 'Regretting Motherhood' by an Israeli sociologist didn't even make local headlines, the German reaction was publishing a book on it.
The German problem…
I am quite well informed about the reasons why there aren't enough children in Germany and why many well-educated women decide against motherhood. The keywords are equal opportunities, gender equality, and the political framework. However, I believe that the roots of the German problem lie much deeper. The political framework for mothers is much worse in Israel: only three months maternity leave (not to mention paternity leave like in Germany), costly child-care (only after age of three with governmental support) and so on.
Versus …
But think of the facial expressions when a mother with four children gets onto a tramline/subway/local train or bus. In Germany you'll see the whole range from astonishment to disgust. However, in Israel, a mother with four children is an average sight. She is neither considered a saint nor a sinner.
The Israeli approach
One of the main reasons are Israeli men. They want children. Not one. Not only two. But three at best. And if it turns out that a mother is pregnant with twins for the third time in a row, they are as happy as they were for the first time. And they are not just happy – they help. Today, Israeli daddies play, change nappies, feed with bottles and sing lullabies.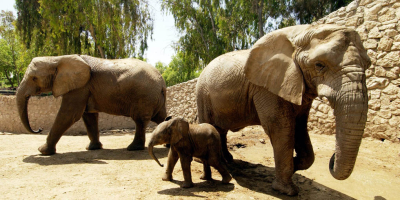 The love for children is also reflected in the (otherwise) less than considerate Israeli behaviour on the street. People help carry a stroller, fetch a forgotten item from the other side of the supermarket and would never ever sigh or complain when a child is loud or cries. In six years I haven't heard it once – while my parents on their visit at the Safari Park in Tel Aviv couldn't help themselves and had to point out: 'Oh my God, look at all these children!'
2 are not the top limit
Personally, I am not yet sure about how many children I want. Maybe I will feel that two are enough, maybe two are nothing short of perfect. But maybe not. Yet I am totally sure that I am not ruling out to have more children. And I am thankful for Israel's influence on that.
Author: Katharina Höftmann