It is literally the passion project of a man's heart: When the award-winning Israeli American author Evan Fallenberg came across the run-down premise in the old city of Acre, he had a vision: restore, renovate – and create a beautiful cultural centre for writers, musicians, translators of all religions. Since Evan is not only a man of words (Evan Fallenberg – When we danced on water) but of deeds as well, he summoned his son Micha, a couple of locals and an architect – and rebuilt 'Arabesque in Acre' that is just about to open now.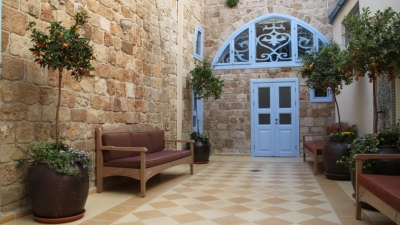 Evan raised some funds for the renovation via a crowdfunding campaign, but shouldered the rest on his own. His son Micha is going to run the place and is currently putting finishing touches to the roof top terrace.
"It is a gorgeous old city with stonework alleyways, right by the sea and on a train line," says Fallenberg. "It completely speaks to me." Acre, a UNESCO World Heritage site, is one of the world's oldest continually inhabited cities and host to dozens of civilizations as well as legendary visitors including Alexander the Great, Cleopatra, Marco Polo and Napoleon.
More information: